Get the Skills to Become a Nursing Assistant Professional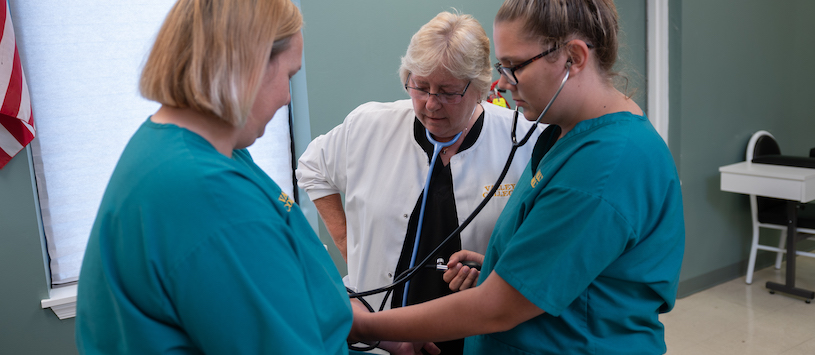 6-Week* Professional Nursing Assistant (CNA) Training Program
As a Certified Nursing Assistant (CNA), you will provide important care to patients under the supervision of nurses and other licensed medical professionals. Professionals in this field often have more direct contact with patients than any other member of the healthcare team. The short 6-weeks training time makes this program a great option for individuals eager to make a quick career change.
The Nursing Assistant training program provides the real-world skills and learning it takes to become a qualified healthcare professional in less than 2 months*. Graduates of this program are prepared to work in long care healthcare facilities (nursing homes) as well as home health care.
Contact the Martinsburg or Beckley campus for information on the next start dates!
The best way to see if Valley College is the right fit for you is to come and tour the school. You can tour our facilities and meet with students and instructors. Schedule a tour now or Get more info.
Become a Skilled Nursing Assistant
Using a blend of hands-on training, practical experience and guidance from real nursing professionals, this program allows you to pursue a rewarding medical position, without spending years or even months in school.
You will learn:
Basic Nursing Skills
Standards of Care
Infection Control
Nutrition
Restorative Care
and more!
As a student in this program, you'll learn all of the vital medical skills to deliver high-quality patient care, plus the important "soft skills" like communication so you can comfortably and effectively interact with patients and their families.
This program covers all eight units required by the Nurse Aide Training and Competency Evaluation Program.
Clinicals: Hands-On Practical Experience
Nursing is a hands-on job, and there's no better way to learn than by actually working in a real healthcare setting.
As part of the required curriculum, students complete supervised clinical training in a long-term care facility. Clinical training provides real-world experience and lets you get a real feel for a CNA workplace before you graduate.
I was at a point in my life that I wanted to make a difference in other people's lives and I wanted to be the kind of mother my children could be proud of. The encouragement I received from staff and students was what helped me the most. They all had complete confidence in me, even when I didn't have any in myself. It's never too late and you're never too old to do something you love, and that makes you happy. Now I spend my days at a career helping others and my nights being someone my family can be proud of. I wouldn't change a thing, and all the hard work was worth it.
Career Opportunities
Upon successful completion of this program, you may pursue the following positions:
(Long Care) Certified Nursing Assistant
(Hospital) Certified Nursing Assistant
(Clinic) Certified Nursing Assistant
Home Health Aide
Nationally Recognized Certification
Graduates of the Valley College Nursing Assistant program are fully prepared and eligible to take the Nursing Assistant Certification Exam. Successful completion of this exam is necessary to earn the Certified Nursing Assistant (CNA) title.
The state of West Virginia Department of Health has approved the Nursing Assistant Evaluation as its tool to make sure that the nurse aides in West Virginia meet the requirements of federal and state laws.
Building Your Career as a Nursing Assistant Professional
In addition to gaining the practical skills required to become a Nursing Assistant professional, you'll also receive career development guidance so you can make the most of your training and feel prepared to make the transition from student to working professional.
Is a Rewarding Career as a Nursing Assistant Right for You? Get More Info…
If you're interested in learning more about careers in Nursing Assistance and exploring whether Valley College is right for you, fill out the form on this page to receive more information.
For immediate questions, call your nearest Valley College location today.
Beckley: 304-362-6929
Martinsburg: 304-451-3172
*Program length when completed in normal time