Get Career-Focused Training at Valley College
Online and On-Campus Healthcare, Business and IT Training
in West Virginia & Cleveland, OH
Career-Focused Training. Scholarship Opportunities. Ongoing Career Services Support. Discover the Valley Difference…
Are you looking to start a new career, change careers, or expand your skills? Valley College has helped thousands of people like you gain the skills, confidence, and experience it takes to pursue a professional career.
With a wide range of career training programs, Valley College will help you prepare for a new career in as little as 5 weeks*. Choose from a variety of Healthcare, Business and IT programs that will provide you with the knowledge and hands-on skills needed to set yourself up for success with a rewarding career.
Our on-campus programs are offered at our Beckley, Martinsburg and Cleveland locations. We also offer online programs that you can complete from the comfort of your own home, with plenty of resources available to guide you along the way.
Truck Driving (CDL) – Contact the Cleveland campus for information on the next start dates!
ACCSC 2018 School of Distinction
Valley College is proud to be recognized as one of the ACCSC's Schools of Distinction for 2018, which recognizes member schools demonstrating a commitment to the expectations and rigors of ACCSC accreditation.
This prestigious award recognizes and honors schools that demonstrate a commitment to delivering quality educational programs to the students, graduates and employers that deserve the best work. We are proud to have received this award in our Martinsburg and Beckley campuses during our accreditation review process.
Veterans Benefits and Aid
At Valley College, we consider it a great honor to be in a position to help Veterans transition into successful careers. We want to make sure that you have a variety of benefits available to you so you can pursue a rewarding career in the future.
Compared to a typical college student, you will have several additional ways to pay for your education. You may even be able to gain credits for your experience and potentially start a program with little to no tuition costs. Discover all of your Veterans benefits today.
Why Valley College?
Frequent Start Dates for a Quick Road to Success – Classes start as often as every three weeks. There's no need to wait around for months or feel rushed to get things organized under time pressure. We can help you get organized to start classes whenever you're ready.
On-Campus & Online Training Options – Medical Clinical Assistant, Veterinary Assistant/Technician, and Truck Driving are offered on-campus. We offer a variety of Medical programs online, as well as Business Administration and Cybersecurity/IT. Get the skills you need to get ahead in a flexible format that fits your lifestyle.
Programs Built to Meet the Needs of Today's Employers – We constantly survey our employers and make adjustments to the curriculum to make sure we are preparing you for their needs.
Career-Focused Training – Valley College programs are designed to provide the relevant, up-to-date skills employers are looking for in viable career fields. Programs range from 5-week certificate programs to 34-month* Bachelor's degrees. As a Valley student, all of your time will be spent on relevant skills you'll use on the job.
A Culture of Caring – At Valley, you'll never feel like a number. We believe in the power of community and we surround ourselves with staff and faculty who go above and beyond to provide the level of attention you need, when you need it.
This fun, online quiz takes 3-minutes to complete and you'll get a personalized report. Identify your strengths and social style plus the training and positions you're best suited for. Get Your Career Training Readiness score now.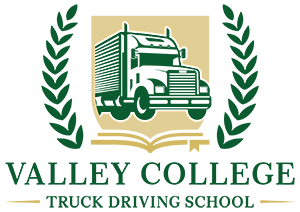 Commercial Driver License (CDL) Class A Program
Valley College's 5-week* Truck Driving program will provide you with the skills and hands-on training you need to start a rewarding career as a Truck Driver.
This program combines in-depth classroom learning and practical experience on the driving yard so that upon completion, you will be eligible and fully prepared to take the Class A Commercial CDL Drivers License Exam.
If you're interested in working in the truck driving industry, find out if a career as a Truck Driver is right for you.
Just 3 years ago I didn't know how I was going to support my family. After graduating from Valley College I now have a dream job! Thank you Valley College for helping me achieve success.
Scholarship Funding
We offer a variety of scholarships and grants to our students. You may be eligible for funding that you won't need to repay in the future.
Whether you're a recent high school graduate or an adult learner, scholarships are beneficial for every student. Learn more about our scholarship and grant opportunities today.
Is a Rewarding Career in Healthcare, Business or IT Right For You? Get More Info…
If you're interested in learning more about careers in Healthcare, Business or IT and exploring whether Valley College is right for you, fill out the form on this page to receive more information.
For immediate questions, call your nearest Valley College location today.
Beckley: 304-362-6929
Cleveland: 216-453-8201
Martinsburg: 304-451-3172
Fairlawn: 330-997-8900
*Program length when completed in normal time.