Get the Skills to Become a Veterinary Professional
ONLINE Classes Now – HANDS-ON Labs Later – ASK HOW!
NO WAIT LIST – Start Now!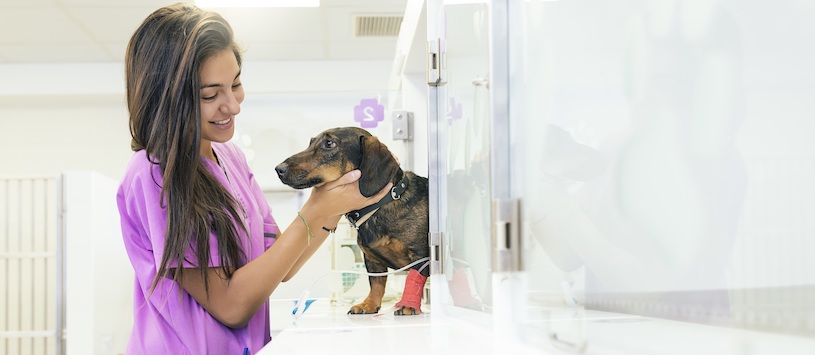 8-Month* Professional Veterinary Assistant Training Program in Cleveland, OH
Have you always had a love for animals? Have you considered a career where you can help animals heal and make families happy? Training to become a Veterinary Assistant can turn your love of animals into a fulfilling career.
The Veterinary Assistant Diploma can be completed in as little as 8 months*. This program combines online study with hands-on labs and is designed to provide you with the skills, knowledge, and core competencies necessary to effectively work in a veterinary office.
This program is offered ONLINE/HYBRID for added flexibility!: You can attend classes CONVENIENTLY online, and labs will take place on-campus for HANDS ON application.
The labs take place at our Cleveland, OH campus.
Dec 4th

Veterinary Assistant

: Veterinary Assistant

Valley College

(Cleveland, OH Campus)

8700 Brookpark Road

Cleveland

OH

United States

44129

This 8-month* Veterinary Assistant program is offered as a "hybrid program" with all theory courses completely online and on-site lab skills training on weekends near the program end, providing a flexible path to gain the knowledge and skills to pursue a fulfilling, hands-on career in the Veterinary industry.

https://valley.edu/wp-content/uploads/2019/08/AdobeStock_161505332.jpg

Valley College
The best way to see if Valley College is the right fit for you is to come and tour the school. You can tour our facilities and meet with students and instructors. Schedule a tour now or Get more info.
Become a Skilled Veterinary Assistant
When you enroll in Valley College's Veterinary Assistant program, you will be preparing yourself for an exciting new career. Our qualified instructors come to class with real-world experience and a working knowledge of the field.
You will learn:
Fundamental animal care procedures and practices
Collection and preparation of laboratory samples
How to administer medication
Key office procedures and medical records management procedures
Client communication
Preventative animal health care
Animal behavior and restraint
Veterinary medical terminology
Anatomy and physiology
and more!
---
Hands-On Practical Experience
You will receive a balanced approach of online instruction and practical hands-on work in a laboratory setting that will enable you to master the core competencies needed to become a successful Veterinary Assistant.
This program has been designed to build and strengthen both critical thinking skills and hands-on skills to work professionally and safely in a veterinary related facility.
The entire team supported me here at Valley College. They all have a positive attitude, which makes you feel positive as well!
Career Opportunities
Upon successful completion of this program, you will be able to pursue the following positions:
Veterinary Assistant
Small Animal Veterinary Assistant
Veterinary Front Office Personnel
Veterinary Receptionist
Laboratory Animal Caregiver
Administrative Assistant in a Veterinary Office
Building Your Career as a Veterinary Assistant
In addition to gaining the practical skills required to become a Veterinary professional, you'll also receive career development guidance so you can make the most of your training and feel fully prepared to make the transition from student to working professional.
Is a Rewarding Career in Veterinary Health Right for You? Get More Info…
If you're interested in learning more about careers in Veterinary Health and exploring whether Valley College is right for you, fill out the form on this page to receive more information.
For immediate questions, call 216-453-8201
*Program length when completed in normal time