Admissions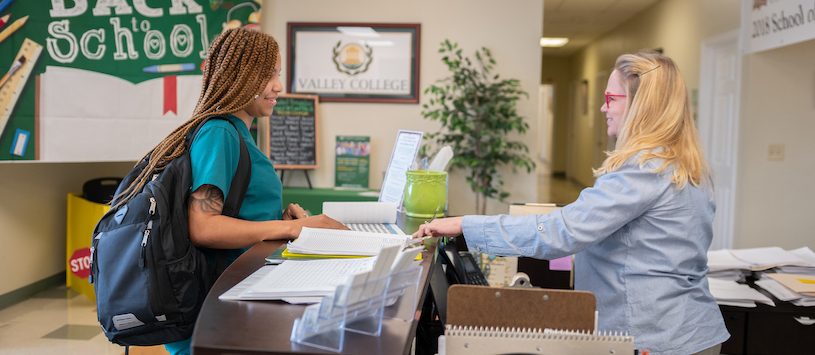 Are You Ready to Change Your Future?
Are you ready to start an important path that will lead you to a rewarding career? At Valley College, we are here to help you to reach your full potential by beginning a fulfilling career that you love. Our Admissions team will be happy to guide you throughout the application process.
So whether you're looking to attend classes at one of our campuses, or want to experience online learning, Valley College is here to help you discover a career path you're passionate about. We take great pride in our students and alumni, and we hope that we can provide you with everything you're looking for and more.
Take the First Step Today
We understand that you will have questions before you decide to apply. What will I study? What are the career opportunities? Can I qualify for Financial Aid? Contact us today to talk to a friendly representative who will answer questions you may have. They can assist you through the process, from discussing your career and life goals, to application, enrollment, to the Financial Aid office, and your next life adventure.
How Can I Apply?
Apply Online
Complete our Online Application.
We will review your application and contact you with further instructions.
It's just that easy!
Apply In-Person
Schedule a tour to come visit one of our campuses. We will discuss your goals, tour facilities, meet staff, and speak to students. This is a big decision and we're here to help. If we both feel it is right, then our staff will help you out in-person with your application and the enrollment process.
Is a Rewarding Career in Healthcare, Business or IT Right For You? Get More Info…
If you're interested in learning more about careers in Healthcare, Business or IT and exploring whether Valley College is right for you, fill out the form on this page to receive more information.
For immediate questions, call your nearest Valley College location today.
Beckley: 304-362-6929
Cleveland: 216-453-8201
Martinsburg: 304-451-3172
Fairlawn: 330-997-8900