Cleveland, OH Campus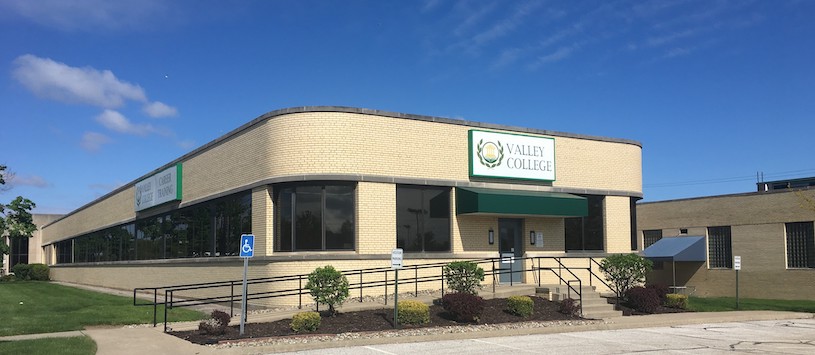 Healthcare, Business and IT Career Training in Cleveland, OH
If you're looking for a career training school in Cleveland, Ohio, check out Valley College. We offer three programs on-campus at our Cleveland location: Medical Clinical Assistant Diploma, Veterinary Assistant Diploma, and Veterinary Technician Degree. We also offer a variety of online programs that you can complete from home so you can achieve your education at your own pace.
Like all Valley College locations, our Cleveland campus offers small, specialized classes where students can receive personalized instruction. Industry-current computers and software are available to all students to best prepare them for the needs of our hiring employers.
Check out Valley Cleveland on Facebook
Programs Offered at our Cleveland Campus
Medical Clinical Assistant (MCA)

As a Medical Clinical Assistant, you will provide support to patients, nurses, and physicians in healthcare facilities. You will receive hands-on training during your Clinical Externship to excel in your future career! Learn more.

Veterinary Assistant

Do you have a passion for animals? Are you interested in working in a veterinary office to help treat animals? You can train to quickly start a rewarding, hands-on career as a Veterinary Assistant. Learn more.

Veterinary Technician

If you are interested in working with animals, then a rewarding career as a Veterinary Technician may be perfect for you. You will learn everything from monitoring anesthesia to surgical preparation of animals. Learn more.
Online Programs
Valley College online programs are administered through the Martinsburg, WV campus and are available to our Cleveland area students.
Online programs at Valley College are currently not available to students from California.
Veterinary Technician Regulatory Disclosures
For more information refer to the Valley College Admissions or Financial Aid office. Valley College has applied for programmatic accreditation by the Committee on Veterinary Technician Education and Activities (CVTEA). Pre-accreditation status of affiliation with the CVTEA means the program is progressing toward accreditation. While the process to secure programmatic accreditation is designed to run concurrent with the first cohort of students to progress through the program and, if all criteria are met by the college, to be complete on or about the time the first student graduates, Valley College cannot make a guarantee that it will obtain approval by that time. Please be advised that you must be a graduate from an AVMA approved veterinary technology program in order to be eligible to sit for a Veterinary Technician certification exam following graduation.
Is a Rewarding Career in Healthcare, Business or IT Right For You? Get More Info…
If you're interested in learning more about careers in Healthcare, Business or IT and exploring whether Valley College is right for you, fill out the form on this page to receive more information.
For immediate questions, call 216-453-8201