Veteran & Military Funding Assistance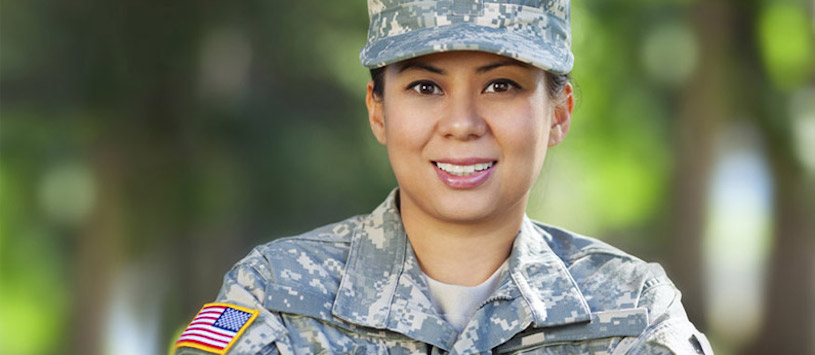 Valley College is Proud to Offer a Variety of Benefits to Our Veterans
We're extraordinarily proud of our servicemen and women, and of the sacrifices they and their families make for our country. We consider it a great honor to be in a position to help Veterans transition into successful careers and assist members of their families as they pursue their rewarding futures.
One thing I particularly loved about serving our country was my sense of commitment and family. When I came to Valley the staff believed in me more than I believed in myself. I was able to find that same sense of family that I had been missing. The day I completed the Medical Clinical Assistant Program was a happy day, but it was a sad day leaving my Valley family. Valley College has been the only place on the civilian side of life, that I get the same sense of family and teamwork.
What Kinds of Funding Are Available?
As you start looking into career programs, you should consider all the different types of funding options you have available. Because of your service in the military, you may be able to gain credits for your experience and potentially start a program with little to no tuition costs.
Here are some of the financial assistance options available to you as a military student or a spouse of someone in the military:
Veteran's Benefits
The State Approving Agency for the United States Department of Veterans Affairs facilitates the administration and awarding of aid for those who qualify. Valley College participates in the Montgomery GI Bill®. Valley College accepts all Chapters of the VA.
''GI Bill® is a registered trademark of the U.S. Department of Veterans Affairs (VA). More information about education benefits offered by VA is available at the official U.S. government website at http://www.benefits.va.gov/gibill."
MyCAA (Veteran's Spouse Benefits)
Valley College is approved to administer My Career Advancement Accounts (MyCAA) benefits for spouses of certain active military duty personnel. Eligibility criteria can be obtained from the Department of Financial Aid.
Yellow Ribbon Program
The Yellow Ribbon GI Education Enhancement Program (Yellow Ribbon Program) is a provision of the Post-9/11 Veterans Educations Assistance Act of 2008. This program allows institutions of higher learning (degree-granting institutions) in the United States to voluntarily enter into an agreement with VA to fund tuition expenses that exceed either the annual maximum cap for private institutions or the resident tuition and fees for a public institution. The institution can contribute up to 50% of those expenses and VA will match the same amount as the institution. Please contact the Valley College Financial Aid department for additional eligibility criteria.
Funding Your Education
The advantage of being a military student is that you have several additional ways to pay for your education compared to a typical college student. There are even some financial assistance options that may not require you to pay them back. The dedicated Financial Aid Advisors at Valley College are happy to help you explore your options and understand the funding services open to you.
Valley College is a Department of Defense (DOD) Voluntary Education Partnership Memorandum of Understanding (MOU) Educational Institution.   Our programs' cost per tuition varies by program.  For more information about the estimated total cost of the programs, please visit the https://valley.edu/catalog/   Our net price calculator is located on our Consumer Information page https://valley.edu/consumer-information/
Our tuition rates by credit hours are listed below.
| Program Name | Tuition By Credit |
| --- | --- |
| Medical Clinical Assistant | $438.00 |
| Practical Nursing | $499.00 |
| Veterinary Assistant | $512.00 |
| Veterinary Technician | $488.00 |
| Nursing Associate | $514.00 |
| Medical Administrative Assistant | $528.00 |
| Medical Front Office Billing and Coding | $528.00 |
| Information Technology (IT) and Network Administration | $528.00 |
| Information Technology (IT) and Security Administration | $528.00 |
| Cybersecurity Associate | $488.00 |
| Cybersecurity Bachelor | $503.00 |
| Business Administration Associate | $520.00 |
| Business Administration Bachelor | $507.00 |
| Health Services Administration Associate | $503.00 |
| Health Services Administration Bachelor | $503.00 |
Additional Resources
Veterans Upward Bound of West Virginia
Military to College Transition – Applying Your Military Skills to a Civilian Career
At Valley College, we aim to ease that transition and help you choose what is best for you. While transitioning from your Military Career, there are many important skills that are applicable to a Civilian Career. Use the information below to help identify which career path may be best for you.
Healthcare
Required Skills

Stress Management
Management
Problem Solving
Compassion
Listening & Communication

Career Opportunities

Hospitals Admissions Coordinator
Medical Secretary
Medical/Clinical Assistant
Medical Records Management
Executive Medical Administrative Assistant
Business
Required Skills

Communication
Team Building
Perseverance
Leadership
Organizational

Career Opportunities

Admitting Officer
Bookkeeper
Merchandise Manager
Business Manager
Office Manager
Information Technology
Required Skills

Communication
Teamwork
Problem Solving
Innovative
Detail Oriented

Career Opportunities

Cyber Intelligence Analyst
IT Security Specialist
Infosec Technician
Security and Privacy Architect
Cloud Security Specialist
Military to College Success Tips
Prepare for the Transition – In the military, there is always someone above you dictating your schedule. In civilian life, you need to be prepared to manage your own time and schedule.
Be Open to a New Way of Thinking – Because of the experiences you've had, you may be set in your thinking and opinions. Be open to hearing what others have to say and you may discover new concepts and ideas.
Search for Other Veterans – Making connections with other veterans can help you build a support network that understands the unique challenges you face going from the military to college.
Build Relationships with Civilians – Though having a peer network is key, it is just as important to make new relationships outside of the veteran circle. This will help you broaden your horizons and get to know your classmates who can help you succeed academically.
Be Patient – Patience can be key. In many cases, you will be older than your classmates and though you have more life experience, you can't make assumptions about someone's knowledge based on their age. You also need patience with yourself. Adjusting to civilian life won't happen overnight – it will take time.
Career Training Can Be Attainable For You – Discover Your Options Today
If you're interested in learning more about your financial assistance and exploring whether Valley College is right for you, fill out the form on this page to receive more information.
For immediate questions, call your nearest Valley College location today.
Beckley: 304-362-6929
Cleveland: 216-453-8201
Martinsburg: 304-451-3172
Fairlawn: 330-997-8900