Get the Skills to Become a Medical Assisting Professional
ONLINE Classes Now – HANDS-ON Clinical Labs Later – ASK HOW!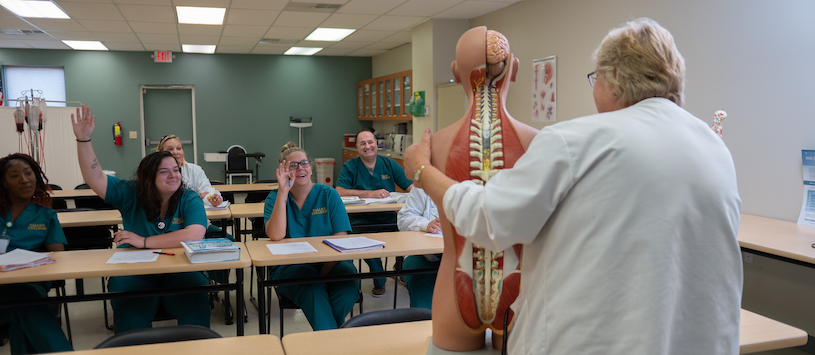 10-Month* Professional Medical Clinical Assistant Training Program
Medical Clinical Assistants have a direct impact on the care and wellbeing of others, and also to help keep the offices of physicians, podiatrists, chiropractors, and other health practitioners running smoothly. As a student in this program, you will learn a broad range of skills necessary to enter the healthcare industry as a Medical Assisting professional.
You will also receive hands-on training during your Clinical Externship in a medical facility, where you will complete various administrative and clinical competencies while using the professionalism skills learned in the classroom.
This program is offered ONLINE/HYBRID for added flexibility!: You can attend lectures CONVENIENTLY online, and clinical labs will take place on-campus for HANDS ON application.
The clinical labs take place at our Beckley, Martinsburg, Cleveland, and Fairlawn locations.
Oct 16th

Medical Clinical Assistant (MCA)

Valley College - Beckley, WV Campus

120 New River Town Center, Suite C

Beckley

WV

United States

25801

This 10-month* Medical Clinical Assistant program is offered as a "hybrid program" with all theory courses completely online and on-site lab skills training on weekends near the program end, providing a flexible path to gain the knowledge and skills to pursue a fulfilling, hands-on career in the healthcare industry.

https://valley.edu/wp-content/uploads/2019/09/DSC09001.jpg

Valley College
The best way to see if Valley College is the right fit for you is to come and tour the school. You can tour our facilities and meet with instructors. Schedule a tour now or Get more info.
Become a Skilled Medical Clinical Assistant
The Medical Clinical Assistant training program provides the skills and learning it takes to become a qualified healthcare professional. Graduates of this program are prepared to work in a variety of interesting medical environments including hospitals, clinics, physicians' offices, and home health care.
Using a blend of hands-on training, practical experience, and guidance from real healthcare professionals, this program allows you to pursue a rewarding medical position, without spending years in school.
You will learn:
Front Office Duties
Medical Terminology
Computer Applications
Basic Medical Office Procedures
Anatomy & Physiology
Medical Records Management
Plus, you'll receive practical instruction in pharmacology and phlebotomy (drawing blood).

---
Real-World Experience – Professional Clinical Externship
Medical Assisting is a hands-on job. There's no better way to learn than by actually working side-by-side with doctors and other medical professionals in a real healthcare setting.
As a student in this program, you have the opportunity to complete a supervised Clinical Externship. Externships are an excellent way to get a feel for your new career, gain real-world job experience and make valuable industry contacts before you graduate.
If I could give one piece of advice to someone considering Valley, it would be "Do it!" Valley College is the place to go. They will make sure you succeed.
Career Opportunities
Upon successful completion of this program, you may pursue the following positions:
Medical/Clinical Assistant
Front Office Assistant
Medical Office Assistant/Specialist
Medical Reception/Receptionist
Executive Assistant and Medical Secretary
Patient Care Technician
Patient Registration/Service Representative
Nationally Recognized Certification
Valley College is an approved testing site for NHA (National Healthcareer Association) certifications.
As a graduate of the Medical Clinical Assistant program, you may choose to enhance your credentials by taking the CCMA Certification Exam (Certified Clinical Medical Assistant). This is a nationally recognized certification that adds value to your resume and helps you show employers you have what they're looking for.
Building Your Career as a Medical Assisting Professional
In addition to gaining the practical skills required to become a Medical Assisting professional, you'll also receive career development guidance so you can make the most of your training and feel fully prepared to make the transition from student to working professional.
Is a Rewarding Career in Medical Assisting Right for You? Get More Info…
If you're interested in learning more about careers in Medical Clinical Administration and exploring whether Valley College is right for you, fill out the form on this page to receive more information.
For immediate questions, call your nearest Valley College location today.
Beckley: 304-362-6929
Cleveland: 216-453-8201
Martinsburg: 304-451-3172
Fairlawn: 330-997-8900
*Program length when completed in normal time